Support ChiroWatch.com
HealthWatcher.net

If you would like to support our efforts to educate the public about the serious problems that face the chiropractic industry today, ChiroWatch is now available for your donations. Whether you have been injured by a chiropractic manipulation, scammed by one of their bizarre methods or gizmos, or told that your child should never get their shots, you now have the chance to help us continue this valuable free service.
Laurie Jean & Lana Dale Memorial Moratorium
April 30, 2004 - Across Canada press conferences were held by the families and their supporters to demand an immediate stop for all chiropractic high neck manipulations. The chiropractic regulators across Canada have failed to voluntarily halt this useless and dangerous procedure. There have been two inquests that found that the chiropractors were at fault. There have been numerous lawsuits over the years, and yet the procedures continue with the blessings of chiropractic associations and regulators. Governments that cover chiropractic still pay for this procedure. The families are supported by pediatricians, neurologists, and other experts who have seen the chiropractic regulators dance around any thought of meaningful self-regulation.
Press release - April 30, 2004
Must Read!!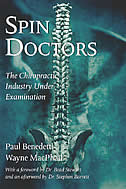 Spin Doctors
The Chiropractic Industry Under Examination
Paul Benedetti
Wayne MacPhail
Canadians visit chiropractors about thirty million times a year, and surveys show that patients are generally satisfied with them. But Paul Benedetti and Wayne MacPhail have another opinion. Their hard-hitting CANOE.CA web site called Spin Doctors I & II were instrumental in educating the public about the excesses of some chiropractors. This book took years to write, and it is a must read for anyone who plans to go for chiropractic treatment, or who pays for insurance that covers it.
Canadian regulations and reports on Chiropractic
"While we recognize there is a role for chiropractors, some of the submissions they made to us suggested they could treat a wide range of illnesses including measles and leprosy. We reject this. In making the recommendation that they be permitted to treat their patients in institutions, we specifically charge the B.C. College of Chiropractors with the responsibility to make certain that inappropriate treatment does not occur, and suggest that the Ministry of Health keep a wary eye on the use of chiropractors in such circumstances.
Chiropractic Regulations - U.S.
Colorado - This board clearly spells out that the the promotion of following are actionable:


(I) Contains false or misleading statements;
(II) Holds out or promises cures or guarantees results;
(III) Contains claims which cannot be substantiated by standard laboratory or diagnostic procedures. false advertising is an offense that can result in the disciplinary actions.

Maine - links to all statutes and regulations
Chiropractic Regulations - Canada
Codes of Ethics
Support ChiroWatch

We are not funded by any organization, and that includes the pharmaceutical industry, or medical associations or groups. So, if you value ChiroWatch for the work we do, please help us pay for our ongoing research and cost of running the web sites. Without you, we would not be able to sustain this most important site.

Thank very much for your support
Terry Polevoy
ChiroWatch.com
---
Feel free to support ChiroWatch with Amazon Honor System