Support ChiroWatch.com
HealthWatcher.net

If you would like to support our efforts to educate the public about the serious problems that face the chiropractic industry today, ChiroWatch is now available for your donations. Whether you have been injured by a chiropractic manipulation, scammed by one of their bizarre methods or gizmos, or told that your child should never get their shots, you now have the chance to help us continue this valuable free service.
A Must Have!


The Chiropractor's
Self-Help Back
and Body Book

Sam Homola, D.C.


This is Sam Homola's latest book. What a relief to find a book that is an honest appraisal of how to treat the aches and pains of everyday living. If you are high on chiropractic, then this book should be on your shelf. Dr. Homola practiced for years as a chiropractor and his knowledge is based on those years of practice. Order it today



Chiropractic
The Greatest Hoax
of the Century

L.A. Chotkowski


This is Dr. Chotkowski's second book on chiropractic exposes chiropractic as a false health care practice that has flourished basically unchallenged over the past century.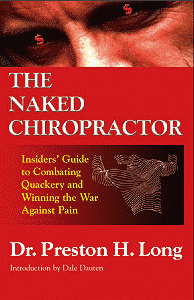 The Naked Chiropractor
Insider's Guide
to Combating Quackery
and Winning the War
Against Pain
Dr. Preston H. Long
The Naked Chiropractor exposes everything you need to know about back pain and the facts Chiropractors and Alternative Medical Practitioners prefer that you did not know. The inside story of the wars between unscrupulous practitioners and insurance companies. Behind the scenes stories about what's really going on at State chiropractic boards across the nation.
Craniosacral therapy is quackery
Many chiropractors follow the bizarre teachings of a licensed osteopathic physician from Florida named Dr. John Upledger. His Upledger Institute promotes techniques that have never been confirmed by medical science. Unfortunately, the press just doesn't understand that this technique is quackery, and every so often these promoters, both licensed healthcare professionals, and unlicensed quacks are featured in major publications.

This ChiroWatch.com web site, for the most part, will focus on craniosacral therapy as practiced by those who are license or registered as a health professional. The fact that health regulators ignore this quackery is a terrible indictment.
NOTICED CRANIOSACRAL THERAPY - Globe and Mail - January 3, 2004
By Karen von Hahn

This article is a prime example of what is wrong with medical journalism today. It really sucks up her in the great white north. Karen von Hahn's treatice appeared on the Globe and Mail's web page under the banner of HEALTH. In the print version, the title was "NOTICED CRANIOSACRAL THERAPY", and ran with a very large picture of a woman, who was having treatment to her face. It ran on page 3 of the STYLE section. It really belongs in the WANTED column, under REALITY CHECK.

The article promoted this bogus therapy without a single word of objective criticism. The fact that she featured Norman Allan, a Toronto chiropractor, who we have featured before on Chirowatch made us all smile.

Karen von Hahn usually writes about the lifestyles of rich and famous Torontonians, entertainers, or about recent holidays. My guess is that the paper needed someone to fill in the rather tiny Saturday paper, and she was available. It was after Hanukkah, after Christmas and New Years.

She also hosts a TV show called The Goods on the Atlantis Alliance's Life Network up here in Canada.

Hosted by super-shopper and style-writer Karen von Hahn, The Goods is a smart style show that takes you shopping for the best new products, and looks at the trends that have inspired them. The Goods offers both an entertaining and delicious look at sumptuous products, along with insight into why we want them.

My guess is that she was sold a bill of goods by the local craniosacral therapists and just fell for it hook line and sinker.
Why is craniosacral therapy quackery?
Wild claims by craniosacral promoters
Craniosacral Therapy Association of the UK

craniosacral therapy and children

The compressive forces experienced during birth as a result of the passage through the pelvis and the tight fit in the birth canal can cause imbalance in a baby's system; even in natural and apparently problem-free births. Common newborn's problems like colic, sucking problems and respiratory difficulties may be due to compression arising from birth trauma. These can develop into problems later in life: depression, migraine, sinusitis, spinal and pelvic pain can often be traced back to what happened at birth. Examination of young children by Craniosacral therapists may be not only curative, but also helpful in preventing problems later in life. Health issues in adults which are linked to their birth or very early experience can be back-tracked and resolved retrospectively.

The Fulcrum their journal reveals how really absurd their claims really are. Pay attention to the articles on autism, and their thoughts on research and regulation.

Norman Allan, PhD, D.C. and more

Norman Allan says that he is a distinguished researcher, has a PhD from Sussex in the U.K., practices as a chiropractor, and to top it all off, he's a poet and an author. He appeared on one of Christine McPhee's now-defuncted radio shows a few years ago called The Touch of Health. When you do that, you've arrived. You've become a person of authority, someone to be believed. So what's the problem here?

Practice modalities - Many are pure quackery. Which means not only is there no scientific evidence for many of them, but if a patient accepts the therapy suggested, they may be ignoring scientific treatment that could help them.

MS - multiple sclerosis treated with acupuncture and St. Johns Wort has no merit.

Cancer - among those are 714-X, shark cartilage, Ralph Moss (he even gives them a phone number), Gerson therapy, Essiac (No, he doesn't mention the recent FTC move against those who sell the quack cancer herbal mixture), homeopathy (totally useless, and possibly harmful), hydrogen peroxide, cranial sacral, and many many more.

Alternative Medicine and Multiple Sclerosis

Allen C. Bowling, M.D.,Ph.D.


Dr. Bowling explains the potentially dangerous interactions between complementary and alternative (CAM) therapies and medical treatments utilized in the management of MS; identifies CAM therapies that are possibly effective, low risk, and inexpensive; and exposes ineffective, dangerous, or needlessly costly alternative therapies. Among those therapies is craniosacral therapy as advanced by people like Norman Allan, D.C.




MULTIPLE SCLEROSIS WHAT ABOUT ALTERNATIVE THERAPIES? - THE MISINFORMED, QUACKS AND CHARLATANS PREY ON MS PATIENTS