Support ChiroWatch.com
HealthWatcher.net

If you would like to support our efforts to educate the public about the serious problems that face the chiropractic industry today, ChiroWatch is now available for your donations. Whether you have been injured by a chiropractic manipulation, scammed by one of their bizarre methods or gizmos, or told that your child should never get their shots, you now have the chance to help us continue this valuable free service.

---
Chiropractic Class Action Lawsuit
---
Contact Neck911.com
---
Laurie Jean & Lana Dale Memorial Moratorium
April 30, 2004 - Across Canada press conferences were held by the families and their supporters to demand an immediate stop for all chiropractic high neck manipulations. The chiropractic regulators across Canada have failed to voluntarily halt this useless and dangerous procedure. There have been two inquests that found that the chiropractors were at fault. There have been numerous lawsuits over the years, and yet the procedures continue with the blessings of chiropractic associations and regulators. Governments that cover chiropractic still pay for this procedure. The families are supported by pediatricians, neurologists, and other experts who have seen the chiropractic regulators dance around any thought of meaningful self-regulation.
Press release - April 30, 2004
---
Chiropractic Reviews - Are their claims valid?
Edzard Ernst, Andrew Gilbey
Background - Some chiropractors and their associations claim that chiropractic is effective for conditions that lack sound supporting evidence or scientific rationale.
This study therefore sought to determine the frequency of World Wide Web claims of chiropractors and their associations to treat, asthma, headache/migraine, infant colic, colic, ear infection/earache/otitis media, neck pain, whiplash (not supported by sound evidence), and lower back pain (supported by some evidence).
Methods A review of 200 chiropractor websites and 9 chiropractic associations' World Wide Web claims in Australia, Canada, New Zealand, the United Kingdom, and the United States was conducted between 1 October 2008 and 26 November 2008. The outcome measure was claims (either direct or indirect) regarding the eight reviewed conditions, made in the context of chiropractic treatment.
Results - We found evidence that 190 (95%) chiropractor websites made unsubstantiated claims regarding at least one of the conditions. When colic and infant colic data were collapsed into one heading, there was evidence that 76 (38%) chiropractor websites made unsubstantiated claims about all the conditions not supported by sound evidence. Fifty-six (28%) websites and 4 of the 9 (44%) associations made claims about lower back pain, whereas 179 (90%) websites and all 9 associations made unsubstantiated claims about headache/migraine.
Unsubstantiated claims were made about asthma, ear infection/earache/otitis media, neck pain, whiplash in at least half of all chiropractor websites. Conclusions - The majority of chiropractors and their associations in the English-speaking world seem to make therapeutic claims that are not supported by sound evidence, whilst only 28% of chiropractor websites promote lower back pain, which is supported by some evidence. We suggest the ubiquity of the unsubstantiated claims constitutes an ethical and public health issue.
Spinal Decompression Challenged
Are chiropractors telling the truth?
"Stretching the Truth?" - CBC Marketplace exposes the dangers of SBT March 26, 2010 - What you need to know about a high-priced back pain treatment! Please leave your comments on their web site and tell us about your experience.


If you've ever suffered from back pain, you know how debilitating it can be. So it's not surprising that many Canadians are willing to pay thousands of dollars for treatments that promise long-term relief.

The latest high-tech, high-priced back pain treatment is called "non-surgical spinal decompression therapy." One of the most popular machines is called the DRX9000, which can pull on your back with over a hundred pounds of force. The Low Back Clinic, one of Canada's largest chains offering this treatment, claims the pull from the DRX9000 separates your vertebrae so discs can be restored.

Many Canadians are paying big bucks – up to $5,000 – to get the DRX9000 treatments.

But does it really work? Marketplace's Erica Johnson puts the machine to the test and reveals potential hidden dangers you need to know about.

Richard Liem's Low Back Clinic advertisement that appeared in The Waterloo Record on April 4, 2009
Canadian Decompression and Pain Centres - another company with branches across Canada fails to reveal who the "doctors" are that work in their clinics. One of their ads ran in The Waterloo Record on April 4, 2009, the same day that Richard Liem's advertisement ran. It was a full-page ad.
Alberta delists all chiropractic services
Paralyzed woman sues chiropractor, regulators and Alberta government for
Half-Billion dollars
Sandra Nette's lawsuit - complete coverage EDMONTON — A woman who says she became paralyzed after having her upper spine manipulated failed in her suit against the Alberta College and Association of Chiropractors and the provincial government for half a billion dollars.
"A perfectly healthy young woman's life has been irreparably and devastatingly damaged as a result of her exposure to a chiropractor's manipulation of the vertebrae in her upper neck to correct alleged subluxations," says the statement of claim.
UK chiropractors sue author Simon Singh
Furious backlash from Simon Singh libel case puts chiropractors on ropes
One in four chiropractors in Britain are under investigation as a result of campaign by Singh supporters - March 1, 2010 - The Guardian - Martin Robbins
As the British Chiropractic Association's battle with Simon Singh continues to work its way through the legal system, chiropractors are counting the financial costs of a major backlash resulting from a libel action that has left the Lord Chief Justice "baffled". What was originally a dispute between the BCA and one science writer over free speech has become a brutally effective campaign to reform an entire industry.

A staggering one in four chiropractors in Britain are now under investigation for allegedly making misleading claims in advertisements, according to figures from the General Chiropractic Council.
The Guardian removes critical article
British Chiropractors Join the Legal Intimidation Party - Holfordwatch coverage
Here is the full unedited version as preserved by GimpyBlog, as published by The Guardian, of Simon Singh's article that was critical of chiropractors and is subject to legal threats by the British Chiropractic Association (BCA) as reported by Holfordwatch and the Quackometer. I have added the evidence to support Singh's claims.
Doctors take Simon Singh to court - The Telegraph - Simon Singh expected to arouse controversy when he claimed that chiropracters knowingly promoted bogus treatments for illnesses including asthma and ear infections. The bestselling author and Bafta-winning broadcaster did not, however, expect to have a High Court writ issued against him
CBC's Marketplace - February 2008
Is that thing in your shoe worth the money you paid?
The CBC is Canada's national television network. They have an investigative programme called Marketplace. The title of this weeks show is "Is that thing in your shoe worth the money you paid?" It can be viewed on the CBC website www.cbc.ca/marketplace You just click to view the video. Comments can be left on the site.
Chiropractic Orthotic Schemes
CBC's Marketplace - February 2008
Is that thing in your shoe worth the money you paid?
The CBC is Canada's national television network. They have an investigative programme called Marketplace. The title of this weeks show is "Is that thing in your shoe worth the money you paid?" It can be viewed on the CBC website www.cbc.ca/marketplace You just click to view the video. Comments can be left on the site.

The business of selling these expensive shoe inserts is examined. Chiropractors seem to be the main group of people selling these inserts and making big money.

The GaitScan system was demonstrated and one of the Canadian marketers was grilled about the cost of the orthotics, their effectiveness, etc. His answers were not very complete, especially when asked how much he charges the chiropractors for the inserts.

The response from a spokesman the Chiropractic College of Ontario was in my opinion totally evasive. I don't think that he understood the CCO's Standards of Practice - Orthotics that had been discussed since 2001.

Here is what the Standards actually say:
"Orthotics can be an integral part of patient care by chiropractors for the management of pedal pathologies and musculoskeletal symptomatology, and to alleviate pain and discomfort from abnormal foot function. Abnormal foot function may affect a patient's kinetic chain, including legs, knees, hips and spine."

Treatment Protocols

Members shall adhere to the following treatment protocol:
prescribing of appropriate orthotics for each patient;
prescribing of custom orthotics when, in the member's clinical judgment or opinion, custom orthotics are required for the patient;
therapeutic trial of care with all orthotics;
assessing the outcome of care; and
timely follow-up and re-assessment to determine if there is a need for different treatment and/or referral to a colleague or other health care provider.
Billing
Members shall comply with:
the business practices provisions in the Professional Misconduct Regulation under the Chiropractic Act, 1991, including the requirement to disclose to a patient the fee for a service before the service is provided, including a fee not payable by the patient, and to itemize an account; and
Policy P-036: Billing Practices, which provides that members may not bill any payor fees in excess of his/her normal fee billed to a private patient for similar services.
The cost of the orthotics must reasonably relate to the time and expertise of, and cost to, the member.
It is obvious to some insurance companies that examined the orthotics industry and the claims and practices of chiropractors in the Province of Ontario who seem to be selling them. I assume that they accomplished this way before the CBC's Marketplace did. I also assume that they would have employed undercover patients in their endeavor.
The CBC's hidden camera stings on several chiropractors who prescribed orthotics should nail the insert schlockers, but until other insurance companies take action this will go on and on. All you have to do is compare the Yellow Pages ads last year with next year's phone book to see who is still running the ads.
Orthotics investigations
Insurers put a foot down on orthotics abuse - Employee Benefits News Canada - December 2007
Responding to dramatically rising claims for orthotics and related products, some insurance companies have adopted changes, such as limiting the eligible providers who can prescribe and/or dispense these biomechanical devices.

Leslie Trotter is both a chiropractor and a pedorthist. She also consults to insurance companies investigating orthotics abuse and fraud.

In a recent presentation to the Canadian Health Care Anti-fraud Association's annual conference, she attributed at least part of the increase in claims to "push-marketing by labs to non foot-care professionals. If you go to one of these seminars, there is as much information about how to market orthotics to your patients as there is hard science as to why people need them."

Trotter also identified several blatant examples of orthotics fraud she has encountered.
Orthotic Promotions by Chiropractors
Here's the Lowdown
Chiropractic Products Magazine - December 2007 "Musculoskeletal problems begin at the feet. Orthotics can help."
This article contains links to major web sites of the marketers. It includes the company The Orthotic Group, that was investigated by CBC's Marketplace in February 2008.
---
Chiropractic Stroke Awareness Group
Television Awareness Campaign Expanded
A support group for people injured by chiropractors expands its television public awareness campaign.
Wethersfield, CT (PRWEB) October 29, 2007 -- The Chiropractic Stroke Awareness Group (CSAG) is expanding its television awareness campaign, this time asking the question, "Have you been injured by a chiropractor?" on the ABC affiliate in Connecticut. The public service announcement (PSA) then provides contact information for victims to seek information and support.
The PSA, which can be seen on WTNH-TV News Channel 8, is part of an ongoing public service effort (including print and outdoor advertising) designed to raise the public consciousness about the risks of chiropractic treatment. Last month CSAG launched the television component on WTIC-TV the Fox affiliate in Connecticut.
"The response has been overwhelming," said Amanda Thompson of CSAG. "Many people are coming forward to share their horror stories and to seek help."
The organization represents hundreds of people across the country who have been injured by chiropractic treatment. Potential risks can include stroke, permanent disability and even death. CSAG is dismayed at the chiropractic community's response of preferring not to inform patients apparently out of fear some people might decide against chiropractic treatment if they were informed.
"Sadly, the chiropractic industry remains more concerned about protecting profits than protecting their patients," Ms. Thompson said. "One must ask the question 'what are they afraid of?"
Contact Information:
Telephone: 860-529-8826
URL: www.chiropracticstroke.com
---
Christine Anderson faces California Board
It was basically the same complaint that was sent to these same agencies back in August 2000. Yes, the campaign to discredit me that was organized by Tim Bolen is still kicking around. Why this has started up again is beyond me?
If Christine Anderson did not actually send this, whoever did send it has forged her e-mail address. I've asked Anderson by e-mail if she indeed sent it, but so far she hasn't bothered to reply.
I have the full header of the e-mail. If it is her, there are things that those of us who have been targets of Tim Bolen and others need to know.
It may be that Anderson could have actually been in contact with Tim Bolen who is hiding out in a cabin in a national forest in Orange County California. I wonder if he offered to help her prepare her defence in her upcoming hearing before the Chiropractic Board later this month. So far, there hasn't been anything else on the internet or Usenet about this.
In October 2006, Christine Anderson, DC, was accused by the California Board of Chiropractic Examiners of a long list of violations of the Chiropractic Act.
Those charges are divided into two catagories:

ADVERTISING CONTAINING SENSATIONAL OR FABULOUS STATEMENTS

* practicing outside of the chiropractic scope of practice
* the use of titles that she is not allowed to use (Diploma of Homeopathy)
* advocating homeopathic remedies to treat otitis media in children
* numerous anti-vaccine statements
* chiropractic adjustments help the immune and blood system function
* neuro emotional technique are effective for infertility
* SEMG (surface electromyography) can detect subluxations
* adjustments can reduce labor time and enhance placental function
* chiropractic care can help reduce complications during pregnancy
* chiropractic care is beneficial in high-risk pregnancies
* advertises the Webster Technique, a breech turning protocol
* subluxations can cause fallopian tube malfunction, and may result in infertility, ectopic
  pregnancy and endometriosis
* subluxation may cause men to have problems with their penile or testicular
  function, and also sperm production, maturation, erection and sperm flow
* infant car seats lack support of the neck which may cause subluxation
* emotional and toxic stress causes subluxation
* spinal checkups during pregnancy can detect and eliminate the restrictions
  in the baby's development
* regular chiropractic care (or preferably in utero) absolutely helps
  children grow up healthier and happier.
* it's important for kids to have their spines checked from birth onward and
  that the only professional qualified to do this is a chiropractor.
* the use of non-invasive Bioenergetic testing/ Meridian Stress Assessment
  can determine which foods and/or environmental factors one has allergies
  to.
* chiropractic technique can desensitize a person from specific allergies
* chiropractors are specialists when it comes to bones, muscle, and nerves


BEYOND THE SCOPE OF PRACTICE

* She provides the following services: homeopathic remedies, flower remedies, homeopathic
 consulting, fertility/infertility counseling, allergy testing, bioenergetics testing, hair
 analysis, Doula and Birth support services, functional nutrition and other services.
 

A chiropractic license does not authorize the holder to deliver a human child, to practice
 obstetrics, or to use any drug or medicine included in the materia medica.


THERE ARE THREE CHOICES UNDER THE CHIROPRACTIC ACT

1. Revoking or suspending her license number DC-20869

2. Order her to pay the Board reasonable costs of the investigation and enforcement

3. Taking such other and further action as deemed necessary and proper


LINKS TO HER WEB SITE AND ARTICLE ABOUT HER
IMPLICATIONS
If the California Board disciplinary actions are productive, this may lead to a significant change in the practice of pediatric chiropractors across North America.
---
Kentucky chiropractor sees empire crumble
Accreditor Implicated in Chiropractic College Overutilization Scam, Faces Hearing with US Department of Education
WCA attacks Bridgeport Bus Ads
---
Tedd Koren sued by Dr. Stephen Barrett
Must Read!!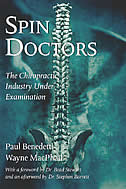 Spin Doctors
The Chiropractic Industry Under Examination
Paul Benedetti
Wayne MacPhail
Canadians visit chiropractors about thirty million times a year, and surveys show that patients are generally satisfied with them. But Paul Benedetti and Wayne MacPhail have another opinion. Their hard-hitting CANOE.CA web site called Spin Doctors I & II were instrumental in educating the public about the excesses of some chiropractors. This book took years to write, and it is a must read for anyone who plans to go for chiropractic treatment, or who pays for insurance that covers it.
When it comes to the latest chiropractic news turn to ChiroWatch.com. We deliver the news that you may not be able to find on the average chiropractic web site. Whether you're troubled about your loss of insurance coverage, legislation that effects your own practitioner, insurance fraud, or scandals about chiropractic education you can be sure that we will try to cover it.
RTE.IE - Irish Television Prime Time
Dangers of Alternative Medicine Prime Time - May 5, 2005

Investigative anchor Donagh Diamond explores the fascination with alternative medicines and the dangers of chiropractic therapy. After a discussion of several deaths related to homeopaths in Ireland, REI producers travelled to Canada to cover the tragic stories about Laurie Jean Mathiason, Lana Dale Lewis, and Diane Rodrigue. The interviews with Dr. Brad Stewart, the neurologist from the University of Alberta are very powerful. You can watch the whole show. We hope that there will be DVDs available in NTSC format in the future.
FSU nixes chiropractic Fantasyland campus
What FSU's campus could have looked like if approved
January 27, 2005 - The Board of governors of Florida State University voted 10-3 today to once and for all to bury the idea that a publicly funded chiropractic college would be built in Tallhassee.
Libel Suit against Tedd Koren, D.C.
by Stephen Barrett, M.D.

Koren Publications is probably the world's largest supplier of patient education materials to chiropractors. Its president, Tedd Koren, D.C., also publishes an electronic newsletter and maintains a Web site. In 2002, I sued Koren and his company for falsely reporting that I had been "delicensed," am a " quackpot," and was "in trouble" because I had been justifiably sued for racketeering. Koren's report was based on a "news release" by Tim Bolen, a professional character assassin whom I am also suing for libel. Koren's answers during his deposition indicated that he neither knew nor cared whether what he said was true. In August 2004, an arbitration panel composed of three attorneys awarded me $6,500 in general damages, $10,000 in punitive damages, reimbursement for certain costs, and publication of a retraction. Koren has filed an appeal, which means that the case—if not amicably settled—will be tried again in front of a jury.

For Additional Information
Telephone Survey of Chiropractic Practices
(1) inappropriate use of spinal x-rays
(2) treatment of of ill-defined "subluxations"
(3) unsubstantiated "maintenance care"
(4) craniosacral therapy
(5) treatment of newborn infants
(6) advocacy of chiropractic newborn cared
(7) failure to recommend vaccinations
On September 2, 2004, the students called 48 offices, posing as potential patients. The results were alarming. This survey found a 100% incidence of beliefs and practices that are unsubstantiated or clash with established scientific knowledge. This suggests that the chiropractic reform movement has had little or no significant effect in the Portland metropolitan area.
Erin Elster continues to make unsupported claims for treatment of Multiple Sclerosis and Parkinson's
Over the years, Erin Elster, a self-proclaimed so-called expert in a technique called "upper cervical" manipulation has made unsubstantiated claims that she can reverse the ravages of Multiple Sclerosis. Her published accomplishments have even made it to the Research News section of the Multiple Sclerosis Society in British Columbia, Canada.

There have been complaints about her "research" and claims made with the chiropractic board in Colorado. She's been featured on internet radio stations and parade out some of her "success" stories, too. A recent paper that she managed to get by the editors of the JVSR - Journal of Verterbral Subluxation Research. Of course most sane people would agree that there is really not too much credibility to that particular publication in the first place.

Of course that didn't stop the true-believers in subluxation miracles to flaunt this study as if it was the gospel truth:
New Back Pain "Clinics" Sprout Up at Wal-Mart
Dynamic Chiropractic
September 13, 2004, Volume 22, Issue 19

Is Retail Behemoth Going Behind Chiropractic's Back?

Two years ago, the world's largest employer dropped the hammer on the chiropractic profession when Wal-Mart Stores, Inc., announced that effective Jan. 1, 2003, it would no longer provide coverage for chiropractic services to its employees. The company didn't offer any explanation for its decision, but merely announced in one of its newsletters, Open Enrollment News, that chiropractic services would no longer be covered. This from a business that, less than two months after the announcement, set a then-single-day sales record of $1.43 billion on Nov. 29, 2002.

If that wasn't enough, the retail giant has now added insult to injury by partnering with a Colorado company that offers treatments designed to strengthen back muscles to relieve pain ­ and all without the services of a doctor of chiropractic.
Chiropractic Assistants as Whistleblowers:
An Invitation to Activism
from Paul Lee's Quackfiles
Are you in doubt about the chiropractic profession? Are you a CA who has doubts about the ethics of what is happening where you work? Has your employer attempted to enlist your support in getting patients to receive unnecessary treatments? Has your chiro sent you to Dynamic Essentials seminars, or the A.C.E. (Assistants for Chiropractic Excellence) Program?
Are you the victim of practice building thinking? Are your morals and ethics becoming eroded?
Is your chiro into wellness care, maintenance treatments, weird and unscientific practices, fraudulent billing, insurance scams, etc.?
Does the "Description of a Practice in The 500 Club" look familiar?
If so, Chirotalk has started the Chiropractic Assistant Forum just for you.
You can start cleaning up the profession by blowing the whistle on such unethical chiros and their practices. An honest CA is a chiroquack's weakest link. You are a potential ticking bomb in that chiro's practice. You know what's really going on. Here you can publish the incriminating facts. I would very much appreciate it if you would write your experiences and discoveries. Describe the types of scams and tricks being used.
You may think that your boss is a rare and exceptional "bad apple". Unfortunately that's not true. The chiropractic profession of today has so many "bad apples" that it can't be the result of chance. It is the inevitable result of fundamental flaws in the profession: its birth, history, philosophy, attitudes, techniques, marketing and education.
Unfortunately the majority of DCs are affected by these fundamental flaws. These flaws give rise to unorthodox, unscientific and unethical beliefs and practices, without it being possible to accuse all of these DCs of having criminal motives. They simply believe and act in accordance with their faulty education.
Though it may be claimed that they just do not know any better, they should and could. The ignorance of many is voluntary and therefore inexcusable. When given the opportunity to see both sides of the story, they often get nasty and refuse to look at the evidence, especially if it comes from Dr. Stephen Barrett of Quackwatch and Chirobase fame.
They must be stopped, and you may be the key to such efforts.
A few words of advice before you get started:
We already have a CA who has discovered what's going on and is getting out.
Read her posts before proceeding. Read and follow the threads in the CA Forum section.
For further information and education about chiroquackery, start reading the resources posted at ChiroLinks. It will help you to recognize things you may have been exposed to, but not noticed. Then your recollections will take on a new meaning.
Why Ontario will delist all chiropractic services
Rumors about delisting OHIP coverage for Ontario chiropractic treatments were confirmed on May 18, 2004. The Ontario Chiropractic Association continued their attack on the cutbacks by again telling the public that poor people of Ontario will suffer pain, maybe even just drop like flies if the government doesn't continue its support of chiropractic.

The Liberal government of Ontario would rather not see its coffers emptied out to support chiropractic because they need to address the really serious problems in healthcare today. Our Province has a great need to shorten waiting times for cancer treatment, hip replacements, cataract surgery and to train and hire nurses.

Over the years the chiropractic regulators in Ontario, the CCO, did nothing to stop the minority of anti-vax chiropractors who strongly protested and opposed public health efforts, like childhood immunizations. It took years to get them to act responsibly and bring in policies that would punish chiropractors who told their patients to avoid vaccinations for their children. Perhaps it is the Liberal's way of showing the chiropractic community that they have overstayed their welcome at the nearly bottomless pit of the government's trough.

Here are some recent links to stories about the budget and the delisting of chiropractic services. You can read between the lines if you want.

If you see any coverage of this in your local paper, or in other media, please forward these to ChiroWatch.com
Chiropractic undercover - Channel 9 - KWTV
Les Limage - Waterloo victim of neck manipulation
Canadian Pediatric Society Warning
"There is no scientific evidence to support the safety and effectiveness of chiropractic in treating non-musculoskeletal conditions in children." - Dr. Linda Spigelblatt
Paediatrics & Child Health 2002; 7(2), 85-89 - Ref. No. CP02-01


Reprints of this position statement are available from:



Canadian Paediatric Society

100-2204 Walkley Road

Ottawa ON K1G 4G8

phone: (613) 526-9397; fax: (613) 526-3332.





Contents:

A history of chiropractic

Chiropractic philosophy

Chiropractic and its use in children

Scientific evidence

Chiropractors and immunizations

The safety of chiropractic in children

Chiropractic: Issues for the physician

Conclusions


CMPA tells MDs to not refer to unregulated health care providers
Eight high cost states were studied included California, Connecticut, Florida, Georgia, Massachusetts, Pennsylvania, Texas and Wisconsin. The average medical payment per claim to chiropractors is more than four times the eight-state median. The study found that the average medical cost per claim in Texas ($7,650) is nearly 40 percent higher than that in the median state studied ($5,334). The higher medical costs per claim are primarily the function of a significantly higher number of visits per claim, 53 percent higher than the eight-state median. The most striking statistic overall is that the average payment per claim to chiropractors ($4,836) is more than four times that for the eight-state average ($1,200).

So, what happens if the governments of Ontario takes a look at this independent study and decide that chiropractic treatments, even for injured workers are too expensive? We challenge the Canadian chiropractors who use the Manga Commission to sell chiropractic to taxpayers to reply to this independent study. These figures DO NOT LIE.
Chiros on Chiros
Before you get your neck manipulated by anyone
check with
ChiroWatch.com