Support ChiroWatch.com
HealthWatcher.net

If you would like to support our efforts to educate the public about the serious problems that face the chiropractic industry today, ChiroWatch is now available for your donations. Whether you have been injured by a chiropractic manipulation, scammed by one of their bizarre methods or gizmos, or told that your child should never get their shots, you now have the chance to help us continue this valuable free service.
Must Read!!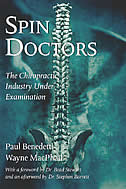 Spin Doctors
The Chiropractic Industry Under Examination
Paul Benedetti
Wayne MacPhail
Canadians visit chiropractors about thirty million times a year, and surveys show that patients are generally satisfied with them. But Paul Benedetti and Wayne MacPhail have another opinion. Their hard-hitting CANOE.CA web site called Spin Doctors I & II were instrumental in educating the public about the excesses of some chiropractors. This book took years to write, and it is a must read for anyone who plans to go for chiropractic treatment, or who pays for insurance that covers it.

A practical guide that explores the facts and falsehoods of chiropractic. Homola is a retired chiropractor and author of a dozen books. He shows that, despite claims to the contrary, chiropractors do not qualify as primary-care physicians. He analyzes patient-education materials, gives self-examination tips to help consumers with back pain to decide if and when to see a chiropractor, and analyzes questionable techniques used to attract and treat patients.

The Chiropractor's
Self-Help Back
and Body Book

Sam Homola, D.C.


This is Sam Homola's latest book. What a relief to find a book that is an honest appraisal of how to treat the aches and pains of everyday living. If you are high on chiropractic, then this book should be on your shelf. Dr. Homola practiced for years as a chiropractor and his knowledge is based on those years of practice. Order it today

The Naked Chiropractor
Insider's Guide
to Combating Quackery
and Winning the War
Against Pain

Dr. Preston H. Long

Dr. Preston H. Long is THE expert. Consumers trust Andrew Weil for reliable information about alternative medicine, Dr. Bernie Siegel for inspiring words about mind-body connection, and Dr. Dean Ornish, for practical ways to keep their hearts healthy, but who the recognized authority on back care and the limits of chiropractic medicine?
When it comes to the latest chiropractic news turn to ChiroWatch.com.
We deliver the news that you may not be able to find on the average chiropractic web site. Whether you're troubled about your loss of insurance coverage, legislation that effects your own practitioner, insurance fraud, or scandals about chiropractic education you can be sure that we will try to cover it.
ChiroWatch
The Main Event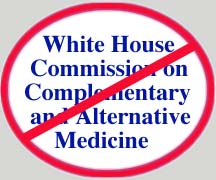 A Manual of Acupuncture
Peter Deadman
Kevin Baker
Mazin Al-Khafaji
Once in a great while an extraordinary book is published that sets an entirely new standard in its field. A Manual of Acupuncture, published by Journal of Chinese Medicine Publications, is just such a book. Painstakingly researched over many years by Peter Deadman, editor-in-chief of The Journal of Chinese Medicine, and colleagues Mazin Al-Khafaji and Kevin Baker, this book is certain to become the primary reference in the West for the study of acupuncture points and channels.
---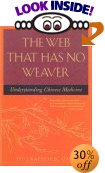 The Web That
Has No Weaver:
Understanding
Chinese Medicine
Ted J. Kaptchuk
Completely and thoroughly revised, The Web That Has No Weaver is the classic, comprehensive guide on the theory and practice of Chinese medicine. This accessible and invaluable resource has earned its place as the foremost authority in the synthesizing of Western and Eastern healing practices.
---

Acupuncture Risk Management
David C. Kailin
This book is primarily intended to train acupuncturists to assess many dimensions of risk, and to implement practical strategies for the prevention of harm. More generally, it guides all complementary medicine providers toward practicing safely in the social, legal and medical contexts of America. - It is out of print but can be ordered used from Amazon.
---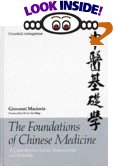 Foundations of Chinese Medicine:
A Comprehensive Text for Acupuncturists and Herbalists
Giovanni Maciocia
This is truly one of the best texbooks I have every seen that explains acupuncture and chinese medical theory. Very comprehensive and informative. It begins by explaining foundational principles of chinese medical thought such as: yin and yang, the five elements, vital substances, the trasformation of Qi, the function of the different organ systems and patterns, and concludes with very descriptive information on the action and use for most points. This text is used at many acupuncture colleges around the nation. A MUST HAVE for all who have a sincere interest in chinese medicine. Keep an eye open for Giovanni's next work "Diagnosis IN Chinese Medicine".
---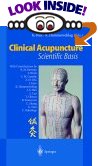 Clinical Acupuncture:
Scientific Basis
Gabriel Stux
R. Hammerschlag
B. M. Berman
There is a large increase in interest in acupuncture by health care consumers. The three main reasons for this are medical effectiveness, cost effectiveness and the credibility that clinical trials and physiological research have provided. Acupuncture is rapidly moving out of the arena of "alternative" medicine, in large part again because it is grounded more firmly than other alternative treatments in research. The book provides the reader with the up-to-date information on the clinical bases of acupuncture.
---

Acupuncture
Risk Management
David C. Kailin
This book is primarily intended to train acupuncturists to assess many dimensions of risk, and to implement practical strategies for the prevention of harm. More generally, it guides all complementary medicine providers toward practicing safely in the social, legal and medical contexts of America. - It is out of print but can be ordered used from Amazon.
---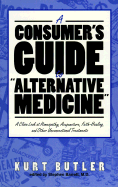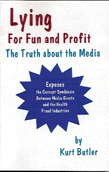 Lana Dale Lewis Inquest
The jury in the Lana Dale Lewis inquest has delivered its verdict. They said that her stroke was an accident. This means that the neck manipulation was the direct cause of her death. They had a long list of recommendations that are clearly aimed at the chiropractic industry in Ontario perhaps throughout the world.
Stop ped chiro, say Sick Kids docs!
Chiropractors and Vaccination:
A Historical Perspective
More anti-vaccine articles
The truth about pediatric immunizations -Dr. Bruce A. Epstein -St. Pete Times - April 26, 2001

You won't get that from most chiropractors, will you? Dr. Epstein is a real pediatrician.

It is a myth that vaccines do not work. Before vaccines became widely used, infectious diseases killed thousands of children and adults each year in the United States.

Parents are bombarded with conflicting information found on the Internet and in magazines and newspapers. The media present this material in a believable manner. Few parents (or reporters, for that matter) have the training in microbiology, immunology and statistical analysis to separate good medical research from a poor study.

PEDIATRICS Vol. 105 No. 4 April 2000, p. e43

From the * Department of Medical Genetics and Microbiology, Faculty of Medicine, University of Toronto; and Divisions of Biological Sciences and Postgraduate Studies, Canadian Memorial Chiropractic College, Toronto, Ontario, Canada.

Although there is overwhelming evidence to show that vaccination is a highly effective method of controlling infectious diseases, a vocal element of the chiropractic profession maintains a strongly anti-vaccination bias. Reasons for this are examined. The basis seems to lie in early chiropractic philosophy, which, eschewing both the germ theory of infectious disease and vaccination, considered disease the result of spinal nerve dysfunction caused by misplaced (subluxated) vertebrae.

Jeff Needham opens his new Sarnia practice with anti-vax attack

His infoKids page archived from February 22, 2002. We originally had it archived on December 11, 2001 when it contained serious violations of the College of Chiropractors of Ontario practice guidelines, and codes of ethics.

Plus he didn't stop there. Many of the links led to a laundry list of what was wrong with vaccines and allopathic medical practices. I've never seen such rubbish in my life. The College of Chiropractors of Ontario forced Needham to remove the links and the entire page about vaccination after complaints were filed by several people. Could you imagine a medical doctor's own web site focusing on what is wrong with chiropractic treatments? It's almost as if Needham has been brainwashed by the CAC, and the ICPA. If his web site was so innacurate, what did he tell his patients when they made an appointment. What does he tell them now behind closed doors? What does he tell his potential employees when they go for a job interview.

It's all about the truth - Planet Chiro - October 24, 2001 - It was removed by them after I posted it on ChiroWatch.com. But, here is what they basically said:

"I set out to make my vision a reality. By telling the truth via health talks, mall screens, sporting events, newspaper ads, flyers, radio and newspaper interviews. I want people to become aware of my practice and my message. The results have been unbelievable."

"...our local chiropractic society held a meeting that I was unable to attend. The topic was my approach to chiropractic.

To conclude their meeting the local group feels in accordance with the provincial association that my plan to educate the masses is unethical, aggressive and against the rules. However, no concrete rules of any governing body have been broken. All they have accomplished is to fuel my burning desire to tell the truth."

"But why on earth would you attempt to stop, report or even criticize someone who is ethically attempting to carry forth the message of our great profession and make a vision of many a firm reality?"

"Lives are at stake. You see the theme? It's not about you, it's about them. Please tell the truth to everyone you can and save a life! "

It's obvious to me that the author of this post on Planet Chiro's web site has crossed the line. Does he really believe that he saves lives, that other chiropractors are wrong, and that only he is right? If he does, this is delusional. He doesn't want to play with all of his cards on the table.
MANIPULATING CHILDREN
The chiropractic treatment of children cost Canadian taxpayers $60 million a year. But what are they getting for their money? The answers shocked many. A CANOE investigation showed many chiropractors treating babies and children using illegal devices, making bogus diagnoses and providing useless treatments. The hard-hitting expose of pediatric chiropractic was posted in a five-day series. Months of investigation by reporters Paul Benedetti, Tim Kraan, Natasha Marko and Wayne MacPhail resulted in a compelling series on this important health issue. We don't know why it was pulled by CANOE.CA after many years. Even the archives are gone.
---
"I thought I was going to die"
The Kim Barton Story


Michael told Kim's story on his CTS television show in January. This is the Toronto Sun Column from February 10, 2000. It's amazing what a little be of time and reflection on Michael's part has done. Last year he hosted both Katrina Kulhay and Len Horowitz, two notorious anti-vaccination health professionals on two separate shows. Earlier this year he had a show that debated chiropractic with two chiros and a M.D. from the Stroke Consortium, and PhD from York University
WCA Position Paper on Stroke
The World Chiropractic Alliance wanted me to post their position paper on the risk of strokes from chiropractic neck manipulation. In order to be fair to the chiropractic profession, we are posting it here. We are also going to invite those of you who want ot raise any questions about their statements to get back to us, and we will post the best ones here.
Stroke Consortium publishes paper in CMAJ
Sudden neck movement and cervical artery dissection
John W. Norris, Vadim Beletsky, Zurab G. Nadareishvili, on behalf of the Canadian Stroke Consortium
CMAJ 2000;163(1):38-40
Two recent deaths from artery dissection following neck manipulation by chiropractors have focused media and medical attention on the relation between sudden neck movement and cervical artery dissection. Although the first case of carotid artery dissection due to chiropractic neck manipulation was described over 50 years ago, the frequency of carotid and vertebral artery dissection as a cause of stroke has only been recognized in the last decade. Since then, there have been many publications and case reports on this topic. In a recent Canadian survey, dissection of the cervical arteries was one of the most common causes of stroke in patients less than 45 years of age.

Most patients undergoing therapeutic neck manipulation will have no ill effects, but there is no doubt that chiropractic neck manipulation can result in dissection of the carotid or vertebral arteries leading to stroke. Until a high-risk group can be identified, chiropractors should inform all patients of possible serious complications before neck manipulation. This is already emphasized in their current training programs.

Finally, physicians should be made aware of this potential complication, and all patients with suspected ischemic stroke should be questioned on hospital admission about recent head or neck injuries or neck manipulation.
Suspected cases of cervical artery dissection can be reported to the Canadian Stroke Consortium Headquarters
416-480-4287
fax 416-480-5753)
.
Chiropractors plan PR campaign
A few months after an inquest into the chiropractic death of a 45-year-old Toronto woman wraps up, the Ontario Chiropractic Association (OCA) plans to launch a marketing campaign aimed at women over 35. In preparation for the media attention the upcoming Lana Dale Lewis inquest will get, the OCA is warning chiropractors to keep controversial pamphlets out of public view so that journalists will not be able to obtain them.
WebMD reports on risks of chiropractic manipulation
CHIROPRACTIC TECHNIQUE UNDER FIRE
Procedure linked to fatal strokes in several patients by Noreen Seebacher HealthScout reporter
Within the past few years,there have been reports of several deaths related to neck manipulation. Although none of those cases resulted in criminal charges, there are at least three wrongful death lawsuits pending in the United States and Canada.
Chiropractic neck dysfunction
the whole truth,
& nothing but the truth
Canadian Chiropractic College Sued - November 2, 1999 National Post
TORONTO - The Canadian Memorial Chiropractic College and its president are named in a $12-million malpractice suit launched by the son of a woman who died following chiropractic treatment. The lawsuit filed yesterday claims that Dr. Philip Emanuele (also named) performed neck manipulation on Lana Lewis, 45, causing a stroke that led to her 1996 death. The suit alleges the college failed to educate Dr. Emanuele about the risks.
Chiropractor in $12 million lawsuit - Toronto Sun - Nov. 3, 1999

Adam Lewis, the victims teenage son blames mother's death on neck manipulation - "People should know what's going on and that (chiropractic neck manipulations are) dangerous," Adam said.

- November 2, 1999 - TORONTO -

A new study has added fuel to the debate between doctors and chiropractors over the effectiveness -- and safety -- of the treatment.

Chiropractic neck adjustments under fire - CP November 2, 1999 - Marlene Habib

TORONTO -- A lawsuit launched by the family of a woman who died ofstroke has renewed the controversy over whether chiropractic neck adjustments are safe. Lana Dale Lewis's family claimed Tuesday she died of a stroke after having her neck adjusted by her chiropractor in 1996.

Family blames chiropractic procedure for death - Toronto Star - November 2, 1999

An inquest is being demanded today into the death of Lana Dale Lewis, a 45-year-old Toronto woman who died of a stroke. Her family has launched a $12 million lawsuit against her chiropractor, Dr. Philip Emanuele, and several leaders of the profession.

In the statement of claim, which must still be proven in court,the family alleges that Emanuele manipulated Lewis' neck onAug. 26, 1996, without using an examination table. Instead, hereached over his office desk, it says.
Bones of
Contention
Sharon Mathiason announces Laurie's Fund and attacks Ministry of Health's support of chiropractic - National Post - Aug. 3, 2000 -
Your editorial, Herb Buyers Beware (July 29), hit the nail on the head. As the mother of Laurie Jean Mathiason, who was killed by a chiropractic manipulation in 1998, I am astounded that taxpayers would foot the bill for unproven, unscientific and dangerous practices, like chiropractic.

The Coroner's Jury at the inquest into my daughter's death recommended Canada's [provincial and federal] ministries of health research the incidence of stroke and the benefits and harmful effects associated with spinal manipulations. Before Health minister Allan Rock spends taxpayer's money promoting chiropractic, he should conduct these studies to protect Canadians from questionable practices.

The government has not funded these studies, so we have established Laurie's Advocacy for Victims of Chiropractic Inc. to gather information and assist those victimized by chiropractic practices.

If readers have been hurt by a chiropractor, they may e-mail us at neck911@sprint.ca.
Sharon J. Mathiason, Saskatoon.

Please give Sharon a hand. Thc CCA and other provincial chiropractic associations have basically done little to clear the air. There is still a heavy cloud floating over this story.
Family alleges chiropractors caused death - Call for inquest: Say Toronto woman died in 1996 after neck manipulation
by Mark Gollom of the National Post
Family members of a Toronto woman who died following chiropractic treatment will launch a multi-million-dollar lawsuit against some of Canada's leading chiropractors tomorrow.
Chiropractors distort info negative to their practice - This is a letter written by the mother of Laurie Jean Mathiason to the Ontario Medical Review
Earlier this year, family physicians and neurologists in the province of Ontario received a letter from the president of the Ontario Chiropractic Association in which the death of my daughter, Laurie Jean Mathiason, is discussed.

The death of my 20-year-old daughter has been very painful, but to have her death discussed with the medical profession of Ontario, without giving me any notice or ability to comment, has been an additional source of anguish.

Furthermore, the letter contains some inaccurate statements which I feel must be corrected and, perhaps more importantly, fails to communicate to physicians the important clinical practice lessons which may be learned from the death of my daughter.
Canadian Stroke Consortium reported on 21 cases of serious injury caused by neck manipulation in the last 8 months. The CBC's Brian Goldman reported on the study on November 1st on the National News. Howard Vernon, the CMCC professor, was interviewed and said that a serious injury was as likely as being hit by lightning.

I wonder what the chances of a chiropractor being sued by a family who has been injured by cervical spine manipulation
Doctors who have patients who have been injured by cervical neck manipulation are invited to report their cases to the Stroke Consortium. Or, you might want to contact ChiroWatch.com
Laura Mathiason's mother strikes back at Ontario Chiropractic Association
When the OCA sent letters to thousands of Ontario medical doctors after the damaging inquest last Fall, Mrs. Mathiason was overwhelmed with grief. After waiting many months she speaks out candidly about what the OCA did. There is much more to this story, and we will cover it in the next few weeks and months, as Mrs. Mathiason attempts to expose the chiropractic regulators and associations as just another "old boys club".
---
Montreal Gazette Chiropractic Series
Mea culpa, mea culpa, a McGill researcher, broadcaster, and writer, Joe Schwarcz Fortunately for us, that didn't play too well with certain chirowatchers in Montreal. After careful consideration, Dr. Schwarcz, never one to ignore reality, revisited chiropractic history, and brought it up to date with a wonderfully personal piece. It includes interviews with the victims of chiropractic neck manipulation and their survivors.
ChiroWatch Table Talk
"Crunch amongst yourselves"
Ontario coroners will track alternative medical deaths
Leslie Papp's series on perils of alternative medicine finally gets to the heart of the matter.

Ontario has begun tracking deaths involving alternative medicine in a move putting unorthodox therapies under fresh scrutiny.

``It's important,'' says Dr. Jim Cairns, Ontario's deputy chief coroner. ``As alternative medicine becomes more popular, I'd like to be in a position to say, `Hey, we have numbers.' ''

A computer code has been created enabling the Ontario coroner's office to catalogue deaths in which excess devotion to alternative medicine may have been a factor.
Look over your shoulder, there may be a coroner or lawyer on your back
Is the Chiropractic Subluxation Theory a Threat to Public Health?
Scientific Review of Alt Med 5(1):45-53, 2001 - Sam Homola, D.C.

Many chiropractors treat patients with spinal adjustments based on the theory that correction of vertebral subluxations will restore and maintain health. This paper explores the controversy surrounding the practice of chiropractic and discusses some of the dangers associated with inappropriate use of spinal manipulation. Treatment of infants and children by subluxation-based chiropractors who do not endorse such medically accepted procedures as immunization or use of antibiotics is especially a cause for alarm. Explaining the scientifically rejected chiropractic subluxation therapy and describing some of the questionable treatment methods based on this theory, a veteran chiropractic reformer concludes that if the chiropractic profession fails to abandon the false premise upon which it is based, it will remain controversial and some aspects of chiropractic treatment will continue to be a threat to public health.
Chiropractic: Does the Bad Outweigh the Good?
Samuel Homola, D.C.
Do you need to see a chiropractor? Many people think they do. A good chiropractor can do a lot to help you when you have mechanical-type back pain and other musculoskeletal problems. Many people go to chiropractors for relief of back pain. But there is reason for caution. Much of what chiropractors do is nonsense, and they often misinform their patients. But until the chiropractic profession cleans up its act, and its colleges uniformly graduate properly limited chiropractors who specialize in neuromusculoskeletal problems, you'll have to exercise caution and informed judgment when seeking chiropractic care.
Chatelaine and Chiropractic Associations
hooked or just hooked up?
Try this one out for some real stealth marketing.
While searching for a chiropractor named Tony Martin in Timmins, I accidently uncovered a really clever advertising ploy. Not sure exactly if there was a glitch on their server, I went ahead and clicked again. If you want to see what I saw

just "click here"
Chiropage doesn't like the free press
They are suggesting that chiropractors urge advertisers who have their banners on the ChiroWatch.com web sites pull them. Why is that? Chiropage can have all the banners they want. I don't call their advertisers up and tell them to pull them because the chiropage supports the ideas that medical doctors bash babies' skulls, and that we not only intentionally kill babies, but we make them suffer for the rest of their lives because we support immunizations. My oh my, who is calling the kettle black dearies?
Chiroclinix.com and the Canadian Chiropractic Association
Late in 1999, all references to pediatric chiropractic suddenly disappeared from official chiropractic association web sites in Canada. Prior to that event, most of their web sites displayed brochures that aimed at recruiting young healthy and pregnant patients into the world of subluxation based chiropractic practice. In early 1001 those efforts seemed to have surfaced at the hands of a group calling itself Chiroclinix.com. We sent a letter to the CCA to ask them to explain why they are linked up, and why therapeutic touch, homeopathy, and other absurd practices are supported.
Why do some people bash chiropractors?
The internet is full of proponents of chiropratic philosophy and treatment. It's really fortunate that some people can express themselves clearly about how they feel about chiropractic. Here's just a few choice words from some of the folks who lurk about on the misc.health.alternative newsgroup:
Chiropractic supply outpacing population growth
CMAJ 2000;163(1):73
Although there were 48 000 more health professionals in Canada in 1997 than in 1988, an increasing population means that the number of workers per 10 000 people actually declined by 1.7% over the period, from 185 to 182. The Canadian Institute for Health Information reports that only a handful of professions experienced a decrease, but they were the largest ones. The number of doctors per 10 000 Canadians declined by 0.3%, while the number of registered nurses dropped by 5.2%. The biggest decrease was among medical laboratory technologists, where the overall number fell by 10.8% and the number per population declined by 20%. Among the areas experiencing large increases were chiropractic, which rose by 40.3%, to 4472 practitioners. -- CMAJ
Guess how many chiropractors there are in Canada today, and how much our population has actually grown since 1997?

It would be nice to see if there has been an increase in fatal strokes after neck manipulation during that same time period. It would also be interesting to see the age of the chiropractors who were associated with patients who stroked out or died. But then again they might be only statistics, eh?
Wisconsin Chiropractic Association and Its Director Agree to Settle FTC Charges of Price-Fixing;
The Wisconsin Chiropractic Association (WCA) and its executive director, Russell A. Leonard, have agreed to settle Federal Trade Commission allegations that they orchestrated a conspiracy among WCA members to increase prices for chiropractic services and to boycott third-party payers to obtain higher reimbursement rates. The result, the FTC said, was higher prices for consumers of chiropractic services. In a related settlement with two La Crosse chiropractors resolving allegations of price-fixing and organizing a boycott of local managed care plan.
C.A.C. - Billboards and Monkey pus
Jeff Winchester, a Waterloo chiropractor led the fight against public health during the infamous meningitis outbreak in 1997. Jeff wants you to rent from him. Unfortunately, you can't see his famous back-lit billboard to the right. If anyone has $1200 per month, I'd look across the street.



A.D.D. and the Brain Reward Cascade
On December 21, 1999 I was faxed an article from one of our chirowatchers in Alberta. There's a new publication out there that is hawking chiropractic quackery and I think you should know all about it. It's not at your local health food store or naturopath.

It's not in one of the bins at the exit ramp at your Safeway, Chapters, or Loblaws.
Chiropractic based on flawed science
Dr. Marvin Levant attacks pediatric chiropractic
Feb 12, 2000
Calgary Herald's readers were treated to this acrimonious attack by one of Canada's most qualified radiologists. Dr. Levant's target was clearly on the mark. He pinned the tail right on the donkey that is chiropractic theory and its abuse by chiropractors who would rob vital dollars from the health care system to fund their joy ride with pediatric chiropractics. Unfortunately, the original article did not appear on their own web site.