Support ChiroWatch.com
HealthWatcher.net

If you would like to support our efforts to educate the public about the serious problems that face the chiropractic industry today, ChiroWatch is now available for your donations. Whether you have been injured by a chiropractic manipulation, scammed by one of their bizarre methods or gizmos, or told that your child should never get their shots, you now have the chance to help us continue this valuable free service.

Contact Neck911.com
Laurie Jean & Lana Dale Memorial Moratorium
April 30, 2004 - Across Canada press conferences were held by the families and their supporters to demand an immediate stop for all chiropractic high neck manipulations. The chiropractic regulators across Canada have failed to voluntarily halt this useless and dangerous procedure. There have been two inquests that found that the chiropractors were at fault. There have been numerous lawsuits over the years, and yet the procedures continue with the blessings of chiropractic associations and regulators. Governments that cover chiropractic still pay for this procedure. The families are supported by pediatricians, neurologists, and other experts who have seen the chiropractic regulators dance around any thought of meaningful self-regulation.
Press release - April 30, 2004
Spin Doctors
The Chiropractic Industry Under Examination
A Must Buy
Order from Amazon.com - U.S.
Order from Amazon.ca - Canada

Canadians visit chiropractors about thirty million times a year, and surveys show that patients are generally satisfied with them. But Paul Benedetti and Wayne MacPhail have another opinion. This blockbuster book exposes the weaknesses of chiropractic theory, its weird and wild practices, and its potential dangers. If you visit a chiropractor, you need to read this book.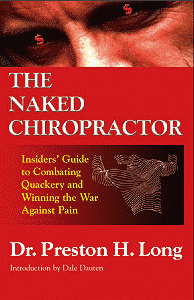 The Naked Chiropractor
Insider's Guide
to Combating Quackery
and Winning the War
Against Pain
Dr. Preston H. Long
Dr. Preston H. Long is THE expert. Consumers trust Andrew Weil for reliable information about alternative medicine, Dr. Bernie Siegel for inspiring words about mind-body connection, and Dr. Dean Ornish, for practical ways to keep their hearts healthy, but who the recognized authority on back care and the limits of chiropractic medicine?
Support ChiroWatch
Warning!!! There are no disclaimers on this site.
If you find this annoying, then why not complain to the chiropractors and their friends who are exhibited here. The cream of the crop of Canadian chiropractors always seems to flow to the top on ChiroWatch. Enjoy Chiros on Parade.
You can complain about any Ontario chiropractor
CCO Complaints and Discipline Committee
If your chiropractor provides services that are not necessary, or if they falsely advertise their services, you have a right to file a complaint. If they keep telling you to come back repeatedly or it will will get worse, or maybe you might even die, you can complain. Of course, if they sexually abuse you, it's a given that they will take action immediately. But, will the CCO do anything about those chiropractors who:
Advise you personally to not immunize yourself or your children
Organizes a mass meeting to promote anti-vaccine chiropractors.
Tells you that you must have the same specific procedure or test done before they see you
Refers you to someone else in the office who does chelation therapy, vegatest or electrodermal testing, ear candling, live-cell microscopy, etc.
Drops you like a hot potato if your insurance runs out for an injury or car accident
Doesn't look at your chart before they see you, and tells you that they are here to reduce your subluxations, so don't worry about anything else.
Invites you to attend a group meeting to promote chiropractic philosophy based on their religious, or quasi-religious training.
Makes you sign a long-term contract for treatment.
Performs the Webster Technique on pregnant women that may place the fetus and the mother at risk. This technique is totally outside their scope of practice.
Uses applied kinesiology or NAET to treat allergies and other conditions
Parades around health expos, shopping centres, and hands out coupons for free visits.
Tells you that they can move your skull bones to cure your condition
Claims to be certified as a pediatric chiropractor
Claims to be certified as a chiropractic neurologist
Chiropractic First puts testimonials and the Lord first
Dr. Freddie So's Chiropractic.ca - If you want testimonials, they've got them all. Pictures of Mel Gibson, Arnold Schwarzenegger, and Barry Bonds abound. In fact if you want to watch a video testimonial by Chuck Swirsky, (the Raptor's voice), you can't beat this site. If you watch this presentation, please note how many references there are to the Christian religion. And don't forget to register for your FREE SPINAL examination, too.
---
After all, the CCO considers a member's web site to be nothing more than an extension of their office. So, they can promote unnapproved devices and procedures, offer free services, link to anti-vaccine web sites, and hawk their favourite religious views.
---
The main problems with Dr. So's web site are the repeated violations of CCO policies about testimonials, anti-vaccine links, and the promotion of unnapproved therapies and treatments. The site goes on and on and on , and also includes what he calls "health links". Most of them are dubious, and some are outright dangerous. The first link is to the Chiropractic Awareness Council based in Guelph, Ontario. Their members have repeatedly opposed public health efforts. For a review of anti-vaccine chiropractic efforts click here.
To top it all off, he claims that he is a pediatric specialist, which is NOT ALLOWED by the CCO.
The Complaints Committee decided that a complaint about the content of So's web site was frivolous, vexatious, and made in bad faith and an abuse of process as provided for in section 26 (4) of the Regulated Health Professions Act.

4.  In the course of engaging in the practice of chiropractic, a member is authorized, 
subject to the terms, conditions and limitations imposed on his or her
certificate of registration, to perform the following:

    1. Communicating a diagnosis identifying, as the cause of a person's symptoms,

       i. a disorder arising from the structures or functions of the spine and their effects 
on the nervous system, or

       ii. a disorder arising from the structures or functions of the joints of the extremities.

    2. Moving the joints of the spine beyond a person's usual physiological range of motion 
using a fast, low amplitude thrust.

    3. Putting a finger beyond the anal verge for the purpose of manipulating the tailbone. 
1991, c. 21, s. 4.



Community Chiropractic Centre
Tecumseh and Belle River
Drs. Small and Dale flogged Innate Intelligence on Christmas Day - What a treat I was in for when I visted the Lakeshore area of Southwestern Ontario for Christmas in 2002. After reading their article in the Lakeshore News, I located their Community Chiropractic Centre along the shores of Lake Saint Clair, just east of Windsor, Ontario. I was suprised that the three chiropractors had all recently graduated from school. I thought that they would surely be scientifically based. But, since one of their associates apparently attended the Cleveland Chiropractic school in Kansas City, Missouri, I had my doubts about the types of promotions that they did.

The CCO Advertising Protocols clearly state that "any advertising with respect to a member's practice must not contain anything that, because of its nature, cannot be verified". Does the chiropractic profession support the existence of an "innate intelligence" that controls the body, and the whole world, too? I don't think so.

And then there's the issue of pediatric chiropractic care and its promotion. In the same community newspaper, almost a year later, they had their regular column, only this time the title was "Chiropractic and children". They try to answer the question:

"Why do millions of parents bring their children to Doctors of Chiropractic every year?"

Well, I've been asking myself that question for years. It's a question that the CCO has failed to address after numerous complaints about Ontario chiropractors who flog this stuff to their patients. Ah, yes, it's the invisible "spinal nerve stress", that "most children....have in thier bodies".

These folks really believe this stuff, and it may START IN THE WOMB. That's really scary stuff. They lay the bloody guilt trip on the parents. And get this, whatever imagined intrauterine damage that these chiropractors lay on these vulnerable parents, it gets even worse. According to Drs. Dale and Small,

"the damage incurred continues to affect the future function of the child's nerve system".

Then, in describing what they do, they throw in their famous catch-phrase, "It allows for the opportunity for maximum potential for well-being." What utter and complete rubbish.

But, here's the biggest cop-out of them all.

"So although children with diseases are often brought to the chiropractor, the chiropractor is not treating their diseases but is instead freeing them of spinal nerve stress, thus permitting their body's natural healing potential to function at its best"
Roger Turner - a real head turner
from Barrie and North Bay
Allen Turner - Stouffville, Ontario
If you need your skull bones rearranged, your allergies cured, your kids' ADHD or bedwetting cured, his clinic is the place to go for treatment. It doesn't matter that one of the folks who works at the centre has a quack PhD, and that an RNC designation has no standing in law. But, what does it matter. The consumer is always right, even if the treatment is wrong. And, don't forget Turner has lots of friends in the media. He's been in the Dini Petty show and all that stuff, just in case you need a vote of confidence before you take your newborn for adjustments, or get your C-1 or C-2 jiggled into place.

The CCO has policies that prohibit many things. It seems to me that there are many sections on his web site that are questionable.
Norman Allan, PhD, D.C. and more
Norman Allan says that he is a distinguished researcher, has a PhD from Sussex in the U.K., practices as a chiropractor, and to top it all off, he's a poet and an author. He recently appeared on Christine McPhee's radio show, The Touch of Health. When you do that, you've arrived. You've become a person of authority, someone to be believed. So what's the problem here?
Practice modalities - Many are pure quackery. Which means not only is there no scientific evidence for many of them, but if a patient accepts the therapy suggested, they may be ignoring scientific treatment that could help them.
Maria Gagliardi - she's got a Vega idea, and stiletto heels!
Below you will find the text of a pamphlet that Maria Gagliardi handed out at the Constellation Hotel in May at a presentation by a public relations firm that hawked unproved tests for food allergies.
If you are surprised at the claims made for the Vega machine, you can file a complaint with the Advertising Standards Council, Health Canada, and the Chiropractic College of Ontario.

Stephen Barrett, the Quackwatch chief has extensive experience with these devices, and has the following to say:
No such device can be legally marketed in the United States for diagnostic or treatment purposes. The FDA has warned or prosecuted a few marketers and banned the importation of such devices into the United States. In 1985, for example, it notified a distributor that Vegatest devices could not be marketed as a medical devices without FDA approval (which they do not have)
---
We've got questions
Who trained Gagliardi in the art of Vega testing?
Does the College of Chiropractors approve of its use? It makes no sense, except to chiropractors.
Electrodermal testing for allergies is bogus - BMJ - Jan. 21, 2001

Electrodermal testing measures electric impedance on an acupuncture point and is a common form of unconventional testing for allergies. In a double blind, randomised block design study, Lewith et al (p 131) evaluated how it compared with conventional skin prick testing in 30 volunteers. Half of them had reacted positively to a previous skin prick test for allergy to cat dander or house dust mite. The results of more than 1500 separate allergy tests showed that electrodermal testing does not correlate with skin prick testing and so should not be used to diagnose these allergies.

Why does the Advertising Standards Authority in the U.K. consider these devices fraudulent? The ASA has just changed their web site, so if the links below are dead, just put in the word or concept into their search engine. I've found that their new site is full of bugs, so just be patient. Put in the name, and if it gives you an error, just locate it by using the Date or Name.

Mrs. Cora Denton - Pharmacy - Jan. 2001

Mrs. Denton worked out of a pharmacy and claime